Founded in 2012 by a former Airbnb engineer in San Francisco, California, Coinbase Global Inc. (NASDAQ:COIN) operates a centralized exchange for cryptocurrencies that allows users to buy, sell and trade cryptocurrency assets. Propelled by $30 million in investments, Coinbase was able to reach 1 million registered users by 2014 — marking financial technology (fintech) as a serious player in the business arena. 
Defined broadly, fintech companies are those which seek to rival traditional methods and companies in the delivery of financial services. Companies such as the commission-free equity broker Robinhood (NASDAQ:HOOD) and Paypal's Venmo (NASDAQ:PYPL) are a few examples of companies alongside Coinbase in the fintech industry.
Fintech companies have quickly been some of the most disruptive among consumers in the last decade. According to the Ernst and Young Global Financial Technology Adoption Index, the use of fintech among consumers increased to 64% globally in 2019, up from just 16% 3 years before. 
And though the fintech market is already growing rapidly, investors may still have opportunities to hop on the trend soon.
Unprecedented growth
Venture capital (VC) firms, which invest in early-stage startups and rapidly growing companies, liquidate their investment returns when they're able to exit their position — either through an acquisition or an initial public offering (IPO). Fortunately for retail investors, increased venture capital investment in fintech, as well as a rapidly growing IPO market for venture capital-backed fintech startups, has brewed the perfect storm for an abnormal number of fintech IPOs in the near future.  
According to TechCrunch, the size of the global fintech venture market grew steadily from 2015-20. However, the industry exploded in 2021, with the total VC investment in fintech companies more than doubling. Despite this unprecedented growth, the VC fintech investment was sustained in subsequent quarters, and in Q4 of 2021, roughly 1,200 venture capital fintech deals raised approximately $35 billion for the startups.
The sector's performance in public markets has become increasingly noteworthy. Matrix partners, a U.S.-based investment firm, created the U.S. Fintech Index, a market-cap-weighted index that tracks a portfolio of the 25 leading fintech companies.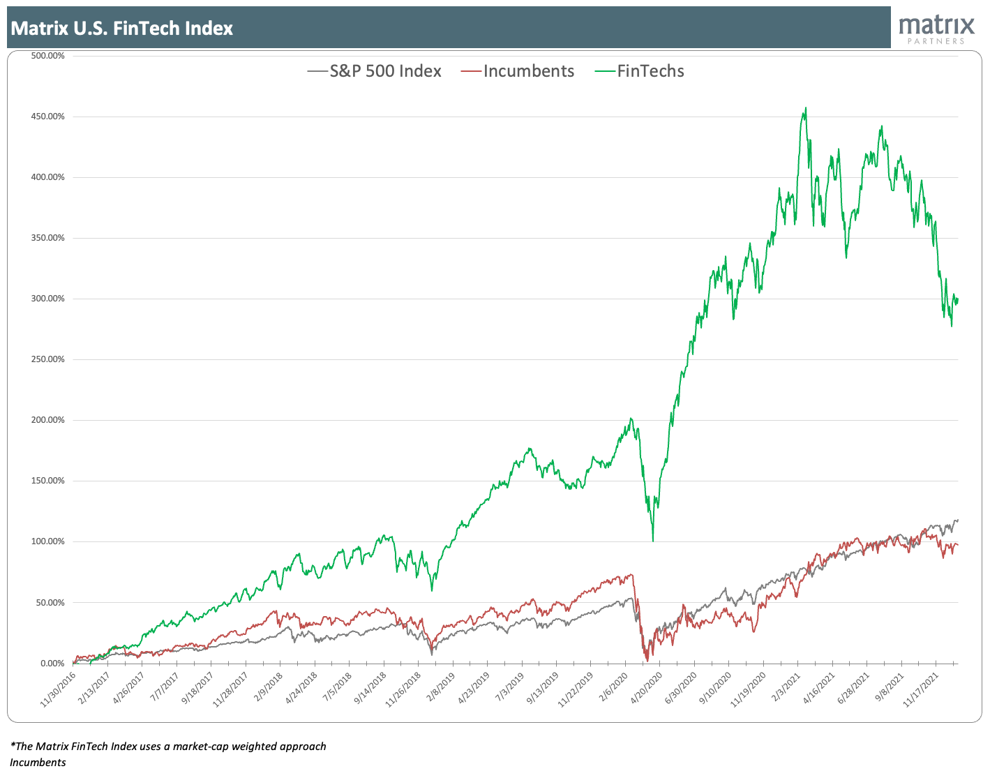 Matt Brown, an early-stage fintech investor at Matrix Partners, writes, "The Matrix Fintech Index has significantly outperformed major public stock indexes as well as a basket of legacy financial service providers for the fifth year in a row." Brown then says that despite a market drawdown, the index continues to outperform both the broader market and other financial-service companies.
More than a decade later, Coinbase has grown into one of the largest cryptocurrency exchanges. With nearly 9 million monthly active users who collectively trade more than $300 billion worth of digital assets each quarter, Coinbase has cemented itself as the one of the most recognizable and popular cryptocurrency exchanges in the world. 
Instead of using a traditional IPO strategy involving new shares and underwriting by an investment bank, Coinbase executives opted to sell existing shares of the company and promote the stock themselves. 
This strategy initially appeared successful, as the company's stock closed the first day of trading up nearly 52% from its reference price, valuing the company at more than $100 billion.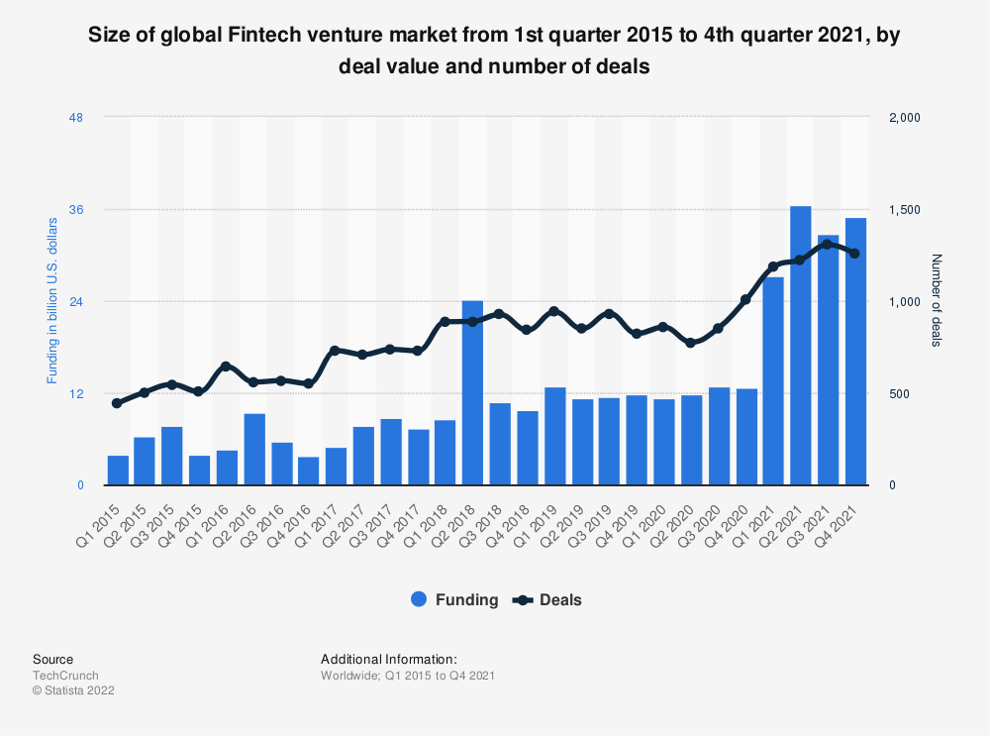 Other financial institutions also took notice of the sector's rapid growth. A study conducted by KPMG and PitchBook found that in the first half of 2021, private investment in the fintech sector reached $98 billion compared to $121.5 billion through all of 2020. Moreover, a Deloitte report stated that the multinational organization believes the fintech industry will experience a compound annual growth rate of 11.7% through the 2020s, with much of that growth originating in the Asia-Pacific regions. 
With the rising number of venture capital fintech deals, retail investors may expect an increased number of venture capital-backed fintech IPOs. This is precisely what the market has observed, as the number of such initial public offerings has nearly tripled between 2018-20.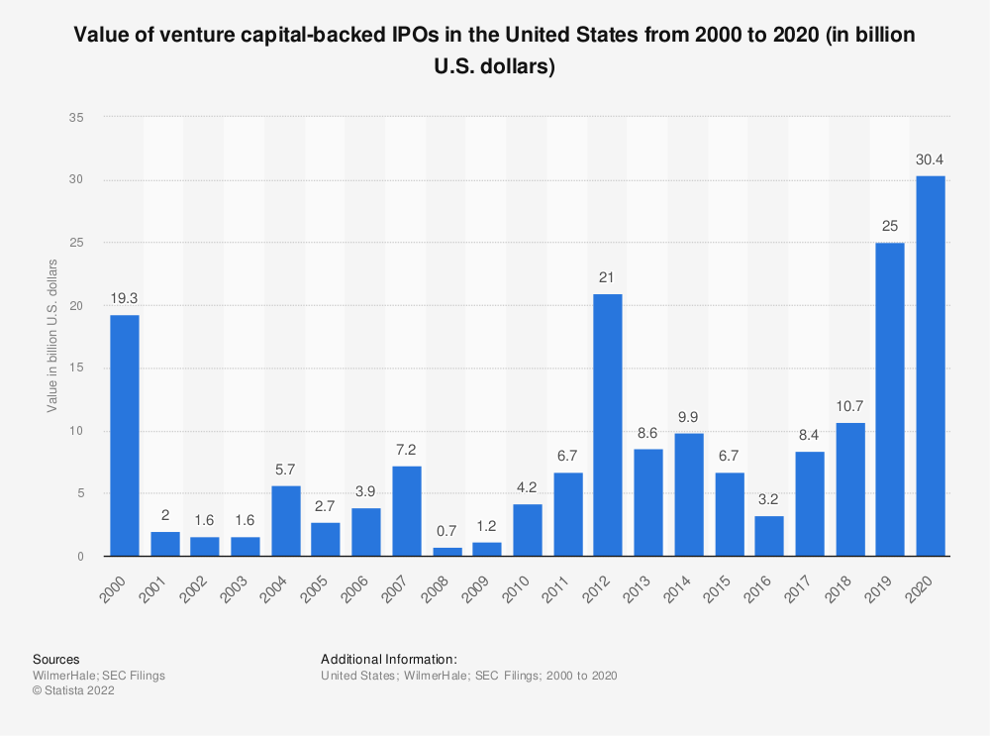 A handful of executives of notable companies with astronomical valuations have publicly expressed their interest in taking their company public. Retail investors should watch these companies closely as their industry counterparts have been outperforming the market nearly threefold.
Stripe
Stripe is a payment processing company that allows business owners to accept payments from credit and debit cards as well as the use of mobile wallets and "buy now, pay later" services. It's currently the most highly valued, venture-backed private company in the U.S. Utilizing partnerships with Instacart, Salesforce, Amazon, Shopify, Google, Lyft and Zoom, Stripe has become one of the most prominent payment processors in the e-commerce sphere — and the most highly valued. 
According to the company's crunchbase profile, Stripe has raised $2.2 billion over 18 rounds of funding and completed 13 acquisitions. Last year, the company had revenues of approximately $7.4 billion and was tagged with a valuation of $95 billion.
Despite the company's lofty valuation, Stripe's co-founder John Collison has been hesitant to offer any insight into the company's intentions of going public. 
"We're very happy as a private company," Collison said in an interview with CNBC. "Part of where our patience stems from is the fact that it feels like we are very early in Stripe's journey." 
These comments, however, followed a Bloomberg report, which reported that Stripe executives were engaging in early conversations with an investment bank regarding the possibility of going public as early as this year. 
Klarna 
Consumers may be familiar with Klarna's point-of-sale loans, which allow shoppers to divide purchases into four interest-free payments. Touting partnerships with 24 of the U.S.'s top-100 retailers, Klarna has positioned itself as one of the fintech industry's most unique consumer-facing companies.
Having raised more than $3.7 billion over 33 funding rounds, Klarna has been able to form more than 200,000 retail partnerships, with the most notable being those with H&M, IKEA, Samsung and Nike. These partnerships, along with the company's rapid growth and global expansion, have earned the business a $45.6 billion valuation.
Klarna is a regulated bank in Sweden, where it's headquarters is located. Touting itself as an alternative to credit cards, an industry Klarna says it believes to be harmful to consumers, the company has reached more than 20 million U.S. consumers and has more than 4 million monthly active users on its app. 
Company executives have spoken publicly about taking Klarna public. However, their exact timeline for doing so is uncertain. When asked about the IPO timeline in an interview with CNBC in February 2021, Sebastian Siemiątkowski, Klarna's CEO, said that for now the process hasn't officially started.
"Maybe it could happen this year, maybe next year, but it's obviously going to happen fairly soon," Siemiątkowski said "It's definitely in the works, but we haven't officially started the process." 
Chime
Chime offers many of the same services as a traditional consumer bank; credit and debit card offerings and in-app banking aren't exactly unique. However, the company's $35 billion valuation puts it ahead of some regional banks with hundreds of branches. 
With a focus on helping consumers build credit, Chime generates merchant fees from card transactions, which are used to eliminate overdraft fees, monthly service fees and other consumer fees for account holders. The company manages to keep costs low since its products are exclusively offered online. However, partnerships with traditional banks mean that deposits in Chime accounts remain FDIC insured up to $250,000.
Chime has raised $2.3 billion over 10 rounds of funding but has yet to be consistently profitable. When asked about the company's profitability in an interview with Forbes last October, Chris Britt, Chime's CEO, said, "We are not optimizing for that because there's great growth opportunity ahead of us." 
Although some reports have stated that Chime has already begun the IPO process under the guidance of Goldman Sachs, a Chime spokesperson declined to confirm the validity of those reports, saying that "while Chime intends to be a publicly listed company some day, we have not made any decisions on underwriters and have no immediate plans for an IPO."
While predictions for how fintech will shape the future of finance are abundant, one thing is especially undeniable — investments in them are growing. With the promise of potential success, paying attention to their upcoming costs could have great pay-offs in times to come.  
Tyler Rutherford is a senior finance major. Contact Tyler at [email protected]
https://www.breezejmu.org/business/investment-explosion-the-next-big-players-in-fintech/article_4676a636-9b37-11ec-a42f-5b4e2f8712ca.html