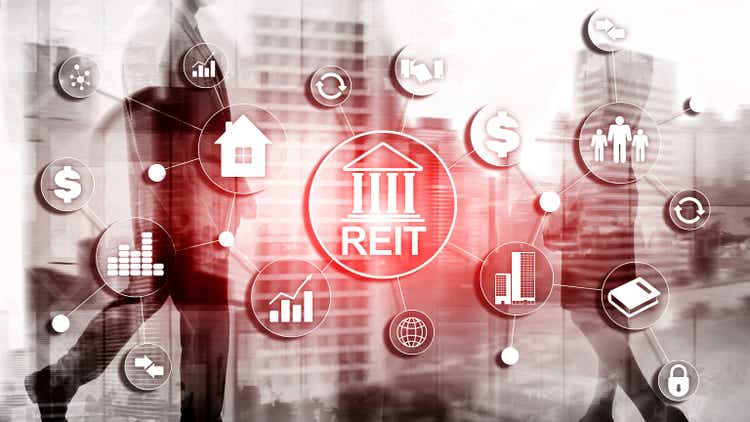 March 3rd of 2022 proved to be an excellent day for shareholders of Cedar Realty Trust (CDR). The day after the company announced that it was selling itself off to another player, Wheeler Real Estate Investment Trust (WHLR), following the sale of some other miscellaneous assets, shares of the REIT surged, closing up 14.6% for the day. This follows a few strong months for the shares and clears up, for investors, some of the problems the company had been facing. Although some investors might be sad to see shares go at what they might think is a low price, the company's mixed operating history and continued struggles likely mean that this transaction was done at a price that either fairly values the company or possibly even overvalues that. In all, my view is that investors in the enterprise should be relieved as they are able to put a nail in the coffin of what has been an underwhelming operation over the past few years.
Recent developments
Some financial transactions that result in a company being absorbed by another are rather simple. Others have varying degrees of complexity. The case of Cedar Realty Trust falls in the latter category. But first, a little bit of history is in store. Back in 2019, management announced that they were exploring some strategic alternatives for the business. This culminated in an announcement in January of this year wherein management proclaimed that they were seeking one of two different types of transactions for the enterprise moving forward. Either they were hoping to sell the company in its entirety or merge it with some other player. Or they were hoping to sell off the grocery-anchored portfolio and/or its mixed-use and redevelopment assets to another operator.

This strategic decision came after the company had reported a few years of lackluster results. After seeing revenue hit $152 million in 2018, it declined in both 2019 and 2020, eventually ending the 2020 fiscal year at $135.5 million. Operating cash flow followed suit, dropping from $57.9 million to $42.6 million. If we make certain adjustments (like factoring in preferred distributions), it would have declined from $47 million to $31.8 million. FFO, or funds from operations, dropped from $53.6 million to $40.3 million. And EBITDA for the business dropped from $87.2 million to $73.1 million. Any sort of company can represent a good turnaround prospect. But in the first nine months of the company's 2021 fiscal year, it exhibited very little that would be suggestive that a turnaround was likely in the near term. Revenue dropped from $102.3 million to $96.3 million. Operating cash flow did improve, rising from $26.2 million to $32.3 million, with the adjusted equivalent rising from $18.1 million to $24.3 million. However, other profitability metrics suffered. FFO declined from $30.5 million to $25.8 million, while EBITDA dropped from $55.7 million to $48.5 million.

Although the declines were not steep, they were declines nonetheless. To some extent, the company made up for this in the form of a low share price. Using projected figures for 2021, the price to operating cash flow multiple for the company with 7.7 while the price to FFO multiple was 9.6. However, the sizable net debt the company had, combined with $161.3 million in preferred stock, pushed the EV to EBITDA multiple of the company up to 15.9. And at the end of the day, that looked rather lofty. Even if we had used the 2020 figures, these multiples were 10.3, 8.1, and 13.8. In particular, the EV to EBITDA multiple of the company was not bad. But it's not something that you want to see in a firm that continues to see revenue and cash flows decline year after year.
At the end of the day, I felt like the positive and negative for the business roughly balanced out. Because of that, in my latest article about the company, published in January of this year, I rated the company a neutral prospect, calling recent upside the product of speculation over whether a deal would come to pass or not. Since then, shares of the company have performed quite well. Investors in the business have generated upside of 18.6%. That compares to the 0.2% experienced by the S&P 500 over the same window of time. But of course, the vast majority of this upside was attributable to the announcement management made that it was selling off the business in pieces.
A fair deal for investors in Cedar Realty Trust
According to the terms of the deal, Cedar Realty Trust well first sell off its portfolio of 33 grocery-anchored shopping centers to a joint venture controlled by DRA Advisors and KPR Centers in exchange for $840 million in cash. It's also selling off its Revelry redevelopment project for $34 million, plus it's negotiating the sale of its Northeast Heights redevelopment for $46.5 million. Combined, that works out to $80.5 million. That said, if this transaction is not completed by the time its deal with DRA Advisors and KPR Centers is completed, then that joint venture will purchase those properties for the same price. The rest of the assets owned by Cedar Realty Trust will be absorbed by Wheeler Real Estate Investment Trust in a transaction valued at $291.3 million in cash.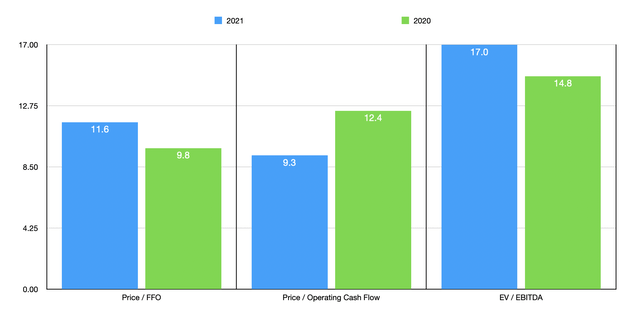 Following these transactions, investors in Cedar Realty Trust's common stock are expected to bring in $29 per share. Meanwhile, holders of the Series B and Series C preferred stock in the business will see their shares continue to trade but under the oversight of the acquirer. For preferred investors, this doesn't really change much. But for the common investors, this transaction it's truly transformative. Instead of having the uncertainty of the enterprise moving forward, investors will receive a one-time payment in the aforementioned cash amount. To some, it seemed to undervalue the company. And if the firm had been stabilized or if revenue and cash flows had been on the rise, I likely would have agreed. But given the continued downturn in the business, the pricing of the deal seems right. Using 2021 figures, the price to FFO multiple of the business was 11.6. This was up from a 9.8 we would get if we used the 2020 fiscal year figures. The price to operating cash flow multiple of the company was 9.3, down from the 12.4 if we relied on 2020 data. And the EV to EBITDA multiple was 17, up from the 14.8 that we would get if we relied on 2020 figures.
To put the pricing of this company into perspective, I decided to compare it to five similar firms. On a price to operating cash flow basis, these companies ranged from a low of 10.5 to a high of 20.9. Using the 2021 figures, Cedar Realty Trust was the cheapest of the group. But if we relied on the 2020 figures, two of the five companies were cheaper. If, instead, we used the EV to EBITDA approach, the 2021 figures would result in three of the five companies being cheaper than our prospect. And the 2020 figures would result in only one of them being cheaper.
| | | |
| --- | --- | --- |
| Company | Price / Operating Cash Flow | EV / EBITDA |
| Cedar Realty Trust | 9.3 | 17.0 |
| Regency Centers (REG) | 17.5 | 18.6 |
| Kimco Realty (KIM) | 20.9 | 15.5 |
| National Retail Properties (NNN) | 13.4 | 17.6 |
| Urstadt Biddle Properties (UBA) | 10.5 | 13.9 |
| SITE Centers (SITC) | 11.8 | 13.3 |
Takeaway
At the end of the day, this particular transaction involving Cedar Realty Trust looks to be fine for shareholders. Although the buyout price may indicate that shares were more or less fairly valued compared to the competition, it's important to note that the historical performance of the enterprise warrants some discount to competitors, in my opinion. I wouldn't go so far as to say that the acquirers overpaid for the enterprise. But I definitely don't think that it was a bad deal for current shareholders of Cedar Realty Trust. As for next steps, with a spread between the buyout price and the current price of just 1.8%, investors can hang on for that gain, but it may make sense to begin looking elsewhere for more attractive opportunities. This is especially true if shares rise further.
https://seekingalpha.com/article/4492784-cedar-realty-trust-a-fair-price-for-a-mediocre-business-realized-thanks-to-wheeler-real-estate-investment-trust